GNX – Next Generation IBC Systems
Features: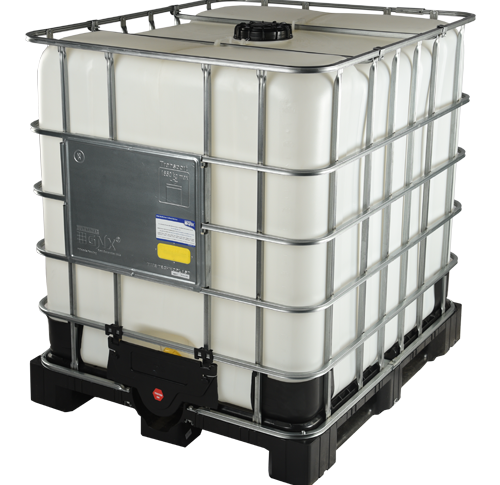 3-Ribbed Top Profile – Specially profiled 3-ribbed structure forhigher weld contacts.
Higher Dynamic Stack Performance – All 20 verticals connected totop ring by Anti-vibration Braces (AVB), in addition to welding Exceptional dynamic stack performance.
Aligned for Top Performance – Top cross bars and respectiveverticals aligned for a box structure. Upgrades IBC for top lift capability with reinforced cage. (Available on special request)
Neat & Rust-free Drip Pan – Plastic drip pan. Prevents corrosion /rust formation.
Easy Pallet Truck Access – 4 way composite pallet, designed foreasy access to pallet trucks.
New Plastic Pallet – New plastic pallet without in-built steel bridge. Steel reinforcement attached separately. Better performance andeco-friendly recycling possible.
Robust Corners – Higher & more stable dynamic stack performance.
Ground Conductivity – Specially bolted for ground earth contact. EHS compliant.
Large Weld Area – Vertical open flange open folded for bigger weld area, better flexibility, EHS compliant.
Less Bulging – Long side verticals scientifically aligned, move forwards centre. Lesser bulging.
Higher Clinch Performance – Clinching position rearranged scientifically on sides. Higher resistance to clinch opening on drop.
Press-fit Sleeve – Press fit new clinch sleeve. EHS compliant and branding opportunity.
Safety Guard – Protectors for cage end near drip area, EHS compliant.
Bigger Dog-house Area – Easy valve replacement on used IBCs. Reconditioner's friendly.
Technical Specifications
Description
GNX Bulktainer – PP
GNX Bulktainer – CP
GNX Bulktainer – MAXIMA
Dimension (L x W x H) (mm)
1200 x 1000 x 1175
1200 x 1000 x 1155
1200 x 1000 x 1135
Inner Container
(UV stabilized HM-HDPE)
Standard
Transperant
Transperant
Transperant
Optional
Black / Blue
Black / Blue
Black / Blue
Useful Volume (Ltr.)
Standard
1000 Ltr.
1000 Ltr.
1000 Ltr.
Pallet Type
Standard
Plastic (PE)
Composite Steel
Composite Steel
Filling Opening
Standard
DN 150
DN 150
150 mm
Optional
DN 225
DN 225
225 mm
Gasket for Filling Opening
Standard
EPDM
EPDM
EPDM
Optional
Viton
Viton
Viton
Bottom Discharge Valve*
Standard
DN 50 Butterfly
DN 50 Butterfly
50 mm Butterfly
Optional
DN 50 Ball
DN 80 Butterfly
DN 50 Ball
DN 80 Butterfly
50 mm Ball /
Cylindrical 75 mm Butterfly
Identification Plate
Standard
 504 x 396 mm
 504 x 396 mm
 504 x 396 mm
Optional
673 x 396 mm
700 x 396 mm
673 x 396 mm
700 x 396 mm
673 x 396 mm
700 x 396 mm
Additional Features
Identification plates & Security flap at Discharge Port are press – fitted. Option of Camlock
adaptors & NPT coupling for Discharging Valve.
Certifications / Approvals
Hazardous goods certification available
* Gasket compatibility/suitability to be ascertained by Buyer/Filler